We offer a flat rate SSD repair and data recovery for $395 for devices up to 512GB*. If you have experienced an SSD drive failure, in a Mac or PC, your data might still be recoverable. In many cases we can recover data from the following SATA, PATA, mSATA, M.2, SSD devices and a few other solid state drives. If your SSD is not listed please contact us before shipping the failed drive. Not all, but some Sandforce controller based SSDs can be recovered depending on the type of failure.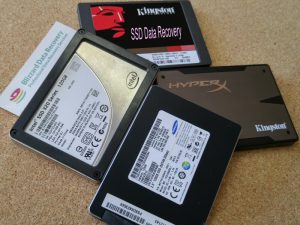 ADATA – SP550, SU800 (Silicon Motion SM2258H, SM2258G)
AMD Radeon – R3 (Silicon Motion SM2256K), R7
Corsair – Nova, Force LS, Force LX, Extreme series, Neutron series
Crucial – V4, BX100, C300, C400, M225, M4, M500, M550, MX100, MX200
Goodram – CX100, CX300, S400U
Intel – 320, 510, 710, X18, X25
Kingston – A400, HyperX Savage, SMSM15S3, V100, V200, SSDNow UV300, SSDNow KC400
Lite On – MU3, LCH-256V2S-11
Micron – C400, C300
OCZ – ARC 100, Solid 2 series, Trion 100, Trion 150,Vertex 1, Vector, Vector 150, Vector 180, Vertex 450, Vertex 460, Vertex 460A, Vector 480
Patriot – Blaze, Blast, Spark
Plextor – M3, M3 Pro, M5S, M5 Pro, M5 Pro Extreme, M550, M6V, S2C
PNY – CS1111
RevuAhn – 850X, 900T Pro
Samsung – CM871, 470, 830, 840, 840 Pro, 840 Evo, 840 Evo (mSATA), 850 Pro, MLC, PM810, PM830, PM840, PM841, PM851, PM851 (mSATA)
Sandisk – X300, Ultra II, Ultra Plus, Genesis, Vulcan, X110 (M.2 2260), SSD Plus (Silicon Motion SM2246XT)
Seagate – 600 series
Silicon Power – Slim S55, Slim S60
Smartbuy – Firestone, Ignition 2, Ignition 4, Revival, Revival 2, S9M, S11T
Toshiba – Q300
Transcend – TS256GSSD360S
Examples:
*We charge a flat rate of $395 for solid state drives up to 512GB. SSD devices over 512GB are charged an additional $75 per 512GB of capacity. Our SSD recovery prices DO NOT include chip-off recovery. Parts are already included in our prices. Recovery media is included but the size and type are our choice. Free return shipping via Priority Mail is included. A $35 discount has already been applied to our prices so we can keep your storage device for parts or experiments. After 30 days any device still in our possession is considered abandoned and may be used for parts or experiments. Our recovery rates are subject to change at any time. Our website reflects our SSD data recovery service prices today and supersedes any printed or saved media.