This week we upgraded one of our data recovery tools. Hardware based recovery tools make a big difference in DR work, many times it's the difference between recovering data and failure. The tools aren't cheap which is one reason there isn't a DR shop on every corner. They also require training, experience, and updates for high percentage results. At our DR lab we use HDD hardware/software recovery systems from two different manufacturers, Ace Lab's (PC-3000) and Dolphin Data Labs (SRP). Our DFL recovery tools (DFL-DDP and FRP) were getting old and had actually been superseded by a new model known as the DFL-SRP (Super Recovery Plus) so we decided it was time to upgrade.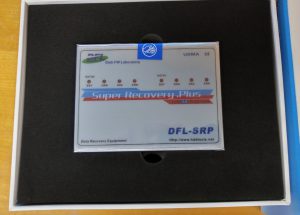 While it is not considered the pinnacle of DR tools the DFL-SRP has made some advances and continues to improve. The disk imaging software is easy to use and boasts many of the same features as the PC-3000. Our decision to upgrade was driven by the ever-changing hard drive business. Manufacturers make changes not only to HDD physical designs but also change the firmware so often, that one tool might add support before the other. It seems logical to have modern tools from multiple vendors. It's also beneficial to have support from multiple vendors.
Only time will tell if the DFL-SRP is up to the challenge and can keep up with our busy environment.