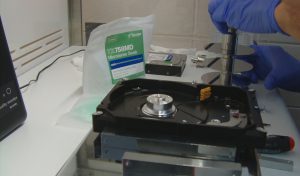 We recently added to our long list of HDD repair tools and were pleasantly surprised at the quality and value of these new tools. The platter removal tools and platter stand from HDD Head Tools (DFL) support both 2.5″ and 3.5″ hard drives. The platter removal tools (1 x 2.5″ and 1 x 3.5″ tool) are a new implementation of an older concept. They have definitely taken some of the risk out of platter removal. The platter stand incorporates 2.5″ and 3.5″ capabilities all in one tool.
Our previous platter swap tools were effective for standard hard drives (no spacers) but the materials and workmanship were not top quality. These new tools recently listed by Dolphin Data Labs at HDD Head Tools are really good quality and priced incredibly low for quality data recovery tools. And the best part, they work on HDDs with spacers.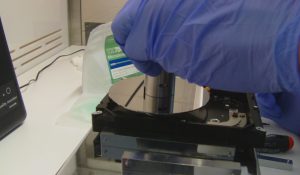 I couldn't wait to try out the new tools, and like anything new in data recovery, you need to test and practice with used devices before attempting a real recovery. So I broke out an old Seagate 3.5″ hard disk drive with spacers for a quick test run. The tools performed just as advertised and by the 3rd platter I was already releasing the tool from the platter with a steady and fluid motion. The tools did not include instructions but didn't really require any. They should be easy to use for any data recovery professional.
Comparing the platter stand to the competition you will see that you can't turn the tools upside down to view both sides of the platter(s) and there are no markings on the tools to track the disk number. This could allow an engineer or tech to inadvertently get the platters in the wrong order. If you just need a simple stand for occasional work the HDD Head Tools version might be enough. If you do a lot of work I highly recommend the platter stands from HDD Surgery.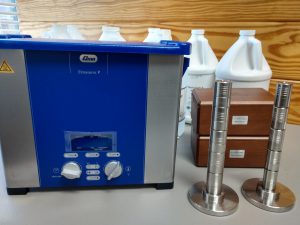 It's really nice to see some competition from the data recovery tool manufacturers. There has always been a huge gap in the quality and price of the tools we need to make data recovery affordable.