This past week in the data recovery lab we repaired an average number of USB flash drives. Some examples include a 4GB Sandisk, 16GB Lexar, and 16GB Emtec but the main one I want to talk about was an Ativa 8GB device. The NAND chip on this Ativa brand flash device is a model that's known for failure. Unfortunately this chip was originally developed for higher density storage rather than reliability. In this particular case we had to perform a chip-off recovery.

At Blizzard we always try to make a temporary repair on a USB device. Repair takes less time, but the main reason we prefer to repair the USB stick is that it almost always guarantees 100% data recovery. We replace the USB connector, test for shorts to ground, test resistors, fuses and capacitors as well as the oscillator (crystal). We also use a microscope to check for lifted or broken pins on the controller and NAND chips.
If someone had previously attempted a repair we will also check for bridged pins on the controller and NAND. If this fails to bring the device back to life then we go to plan B, remove the memory chip(s) and read it in a special reader. After that we reconstruct the data using custom software that was developed just for flash recovery. The specialized software has progressed with years of research and reverse engineering, and maybe it's powered by a little magic too 🙂
In the case of this Micron 29F64G08CFAAA NAND chip we did get a high percentage recovery but there were some errors that were not correctable. This left a few files damaged but over all it was a good a recovery.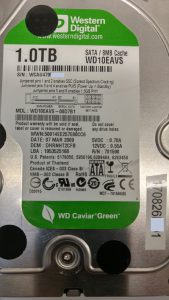 Next up – the hard drive recoveries. In a typical week we see more Seagate recoveries than we do Western Digital but this week was definitely a WD failure extravaganza. We had a number of WD 3.5″ SATA HDDs as well as two WD laptop hard drives. The disk sizes were all 1 and 2TB. One of the 1TB desktop hard drives (Model WD10EAVS) had a weak head #0 and also suffered some media damage. Because of the media damage the heads had to be cleaned numerous times during the recovery process.
We also had a very similar 1TB desktop hard drive (Model WD10EADS) that had been dropped. The heads were damaged and this recovery required a head stack replacement from a donor drive. This one also had a some media damage, which was expected due to it being dropped.
One of the laptop hard drives (Model WD10JPVX) we received had been sent to us previously but the recovery was declined. When it was returned for recovery this week we already knew it had a dead head #3. This HDD was also known to be dropped. Once a donor head stack assembly was fitted to the HDD most of the data was recovered but there was a good chunk of media damage which resulted in some files being unrecoverable.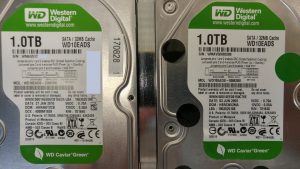 I picked these three WD recoveries to share this week because each case had a unique head problem. One had a weak head that was still usable after cleaning, one had a completely unusable head set that had to be replaced, and one was imaged with 3 of the 4 original heads and then the HDD was fitted with a donor head stack to complete the recovery for head #3.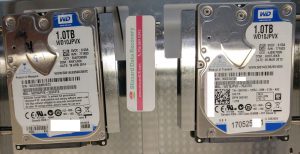 And that's it, another look at a few data recovery cases from a week at our data recovery lab.