It's been a great year for us at Blizzard Data Recovery. Our hard drive recovery business continues to grow and we have purchased a number of new tools this year to keep up with that growth. Because of this growth we have tripled the number of HDD cases we can work on at the same time. We take pride in diagnosing problems and recovering your data as quickly as possible. We recovered data from 96% of the hard drives* that were sent to us this year. Here are some data recovery tool reviews.
Flash drive recovery cases have increased dramatically this year and we have helped many people recover their lost data. This past month has seen an increase in USB flash devices that have been snapped in two. These are not the typical broken connector cases and they can sometimes be very challenging. With the right tools, training, and support from some of the leading recovery tool developers, we recovered data from 95% of all conventional USB Flash Drives that were sent to us in 2017. Most USB flash devices (thumb drive, stick, pen, etc) are recovered within 24 hours.
In 2017 we started to see an increase in SSD recovery requests too. SSD cases present a new set of challenges for data recovery companies and we hope the leading DR tool developers make 2018 the year they increase their R&D resources for solid state drives. If you have a failed SSD then look at our list of supported SSD devices, we might be able to recover your data and we offer flat rate pricing with a no-data-no-charge policy.
I have included some examples of broken flash devices in an effort to increase your awareness and to encourage you to backup your data today. For those that have already experienced data loss please don't think it can't happen again. Backup your memories and have a happy new year!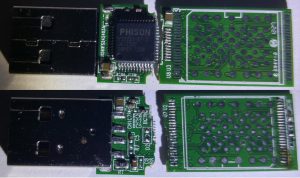 If you have stored an old failed or broken storage device because the recovery cost was too high then look at our data recovery prices and consider sending that old device in for recovery. Recovery cost is not what it used to be, "we make data recovery affordable".
* Does not include hard drives sent in with completely destroyed platters.