We recover data from broken or failed USB flash drives.
Our current recovery price for USB flash drives up to 4GB is only $135*. If you have experienced a broken thumb drive, don't give up on your document files and pictures. We make data recovery affordable!
We can recover data from your USB, Lexar Jumpdrive, Sandisk Cruzer and Ultra, Verbatim, PNY, ADATA, Toshiba. Emtec, and many others.
Up to 4GB USB Flash Drive $135
8GB USB Flash Drive $150
16GB USB Flash Drive $175
32GB USB Flash Drive $200
64GB USB Flash Drive $250
128GB USB Flash Drive $300
256GB USB Flash Drive $375
* Prices include chip-off recovery if required.
Add $200 for USB monolith devices. Do I have a monolith?
Add $145 for SD, Micro SD and Compact Flash cards. See camera card prices.

Recovery media is included but the size and type is our choice. You can always provide or purchase other media.
Free return shipping via Priority Mail is included. You can request and pay for alternate shipping methods.
A $25 discount has already been applied to our prices so we can keep your device for parts.
After 30 days any device still in our possession is considered abandoned and may be used for parts or experiments. We do not offer refunds after a recovery has been delivered.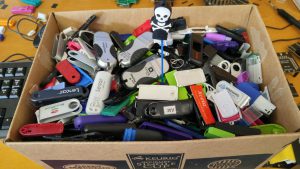 Our recovery rates are subject to change at any time. Our website reflects our recovery prices today and supersedes any printed or saved media.
See some examples of conventional USB devices.
Can broken USB flash drives be fixed? Yes, no matter what you call them, we recover 95% of the conventional USB devices we receive.
Flash Drives
Thumb Drive
USB Drive
USB Stick
Pen Drive
Jump Drive
Memory Stick
We can repair most USB flash drives and recover your files. We'll inspect your device under a microscope and determine how to proceed with your recovery case.
Looking for more info about fixing broken pen drives?
Sandisk flash drive recovery
Tips: Don't let someone blob a bunch of solder on your broken flash drive. Keep all of the parts together and send them to Blizzard.