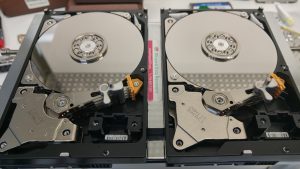 For today's case we have a 3TB Western Digital model WD30EZRX-00MMMB0 with four platters and eight heads. It's not uncommon to get portable hard disk drives that have been dropped or suffered some type of impact. In this case we have a full size hard drive that has suffered some type of impact and left some of the media damaged. The big external hard drives don't really lend themselves to portability. They typically have a separate power supply and most people leave them sitting on a desk or the top of their PC. Occasionally you will hear a story where the cable got snagged and the HDD hit the floor, but in some cases I blame the manufacturer for poor design. For some reason they like to put feet on the thin side of the drive enclosure so it can stand up. This makes no sense because bumping the desk or tower can cause the drive to topple over. That alone can cause damage, but in some cases it's on the edge of the desk or PC and it falls to the floor. Hard drives rarely survive that type of impact. If the drive was laying flat it wouldn't fall over when the particular platform is bumped or, in some cases, intentionally relocated.
The good news is that we can typically recover most of the data. If the heads strike the platter you might end up with a few files with bad sectors. If the drive was reading or writing when it suffered the impact you could end up with some significant media damage.
The first step we take when a drive has been dropped is to remove the head assembly in a clean bench for inspection. During the inspection we make sure the slider suspension system is not bent and all of the sliders are present. We also inspect the sliders for signs of media damage. If everything looks good we can sometimes recover the data with the original head stack assembly. For Western Digital it isn't uncommon for at least one head to no longer read. In those cases we can image with the remaining working heads and then use donor heads to complete the task, or we might swap the heads immediately and target files directly if there is significant media damage.
In the end, even with significant media damage, we successfully recovered almost 2TB of data (70,000 files) for this client. Although this case turned out to be very successful, and the customer was extremely satisfied, you really should consider backing up your important data. DO NOT rely on data recovery as your backup solution 🙂
If you need help you can review our hard drive recovery prices.
If you don't have a current backup why not take the time right now to secure your data?