Some new t̶o̶y̶s̶ tools have arrived! We added the Seagate 3.5″ head tools to our existing tool set but we also got our hands on two new offerings from HDD Surgery. With the arrival of the Western Digital 2.5″ and the Seagate 2.5″ slim models some new challenges also arrived. How do we swap heads with the least risk and the best chance for recovery success?
These new drives presented a challenge because of the close tolerance between the HDD frame and the ramp area inside the device. The challenge was so intimidating to some that they resorted to swapping platters rather than swap heads. This was a drastic change for many because most consider a platter swap reserved for seized motors or bent spindles.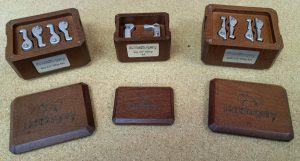 While some data recovery pros started testing tricks like using the ramp as a tool, or parking the heads on the platter, many were waiting for a tool manufacturer to produce a good solution. Well, these HDD Surgery tools have done just that.
Watch the HDD Surgery video for WD 2.5″ Slim Set Tool
Watch the video for HDD Surgery Seagate Slim Set Tools
At Blizzard Data Recovery we want to be sure we have tools that can reduce risk and possibly increase our rate of success. HDD Surgery offers some of the best professional data recovery tools in the world. If you are in the data recovery business you owe it to yourself and your clients to use professional tools. The right tools, training, and experience can set you apart from the other data recovery labs. See more HDD Surgery Tools.