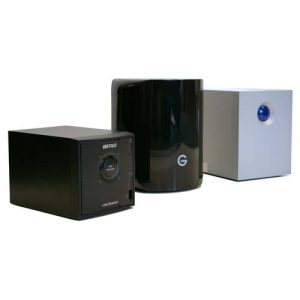 As personal storage needs grow, we are starting to see more storage media devices that consist of multiple disk drives in a single enclosure. In some cases, the buyer is not aware that the device is multiple disk drives configured as a RAID-0 array. If you aren't familiar with RAID-0, it means the data is written across multiple drives in a striped fashion. It also means you are increasing your chances for failure, and to recover your data you need access to all of the drives. There is no redundancy or fault tolerance with RAID-0 configurations.
Some examples are the Western Digital MyBook Duo series and the LaCie 2Big series, which are both advertised as hard drives. You'll also find the G-Technology G-RAID series, but at least the name lets you know it's a RAID device. Unfortunately, many consumers see the word RAID and assume it means they are protected in the case of a single drive failure. Both G-Tech and LaCie market to photographers and videographers, but their devices are also becoming more popular with individuals looking for personal storage solutions that meet their increased storage requirements.
Another popular external storage device is the G-Technology G-Speed Shuttle, but they are bulkier and less likely to be confused for a single disk drive. They also come configured as a RAID-5 array which offers redundancy. G-Technology is primarily marketed to the Macintosh community, with most devices supporting the latest iteration of Thunderbolt technology.
An interesting side note is that Seagate acquired and started merging LaCie in 2014, while Western Digital purchased Hitachi Global Storage Technologies (HGST) in 2012, which had purchased the G-Technology brand in 2009, so G-Technology is now a Western Digital brand.
So what does this mean to the consumer? It means you need to figure out how you will keep all of this data backed up. Solving your bulk storage needs is not enough, you need to think about redundancy, otherwise the risk of losing your important personal data is very real, or one might say, imminent. For professionals, the risk of losing your work or your clients' photos and/or videos is just a disaster waiting to happen. It can be devastating for your business and traumatic for your clients.
If you suffer a RAID-0 failure, our RAID data recovery service can typically help recover your data, but why gamble? Backup now.
We hope you never need data recovery service, but we are doing our best to keep professional data recovery prices affordable. Your best option is to spend the money required to store multiple copies of your important data and keep your copies up to date.