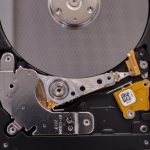 When data recovery professionals are selecting a matching Seagate drive for parts, it's important for them to get a good match so the heads can read and write to the drive. In a previous post, I listed some common rules for identifying a Seagate donor drive. This post is specific to the Seagate Rosewood family of drives (A5, AE, AF, 8C). The Rosewood family consists of 500GB, 1TB, 1.5TB, and 2TB mobile drives in the 2.5″ form factor. The following information may not necessarily help when choosing a donor drive, but it is interesting to see manufacturing codes over a period of time.
The following list only includes drives that have been in our possession. The data is not from any other sources. We do not accept submissions for addition to our list. We still have boxes of these drives we intend to add to the list in the future.
This Rosewood internal head markings list includes the Seagate model number, first 3 characters of the serial number,  firmware revision, date of manufacture, and the internal code stamped on the head connector plate.
500GB —
ST500LM030 – 2E717D-500 – ZDE – SDM1 – 31 JUL 2018 – RZ2-B / AG-K
ST500LM034 – 2GH17A-171 – WGS – LXM3 – 11 JAN 2019 – RY2-T / TIAB-R
1TB —
ST1000LM035 – 1RK172-566 – W93 – SBM3 – 05 FEB 2016 – RY2-T / AGB1-D
ST1000LM035 – 1RK172-566 – W93 – SBM3 – 13 APR 2016 – RY2-T / AGB1-D
ST1000LM035 – 1RK172-568 – WDE – SBM3 – 20 AUG 2016 – RY2-T / AGB1-B
ST1000LM035 – 1RK172-568 – WC0 – SBM3 – 24 NOV 2016 – RX4-P / LSIB1-P (3-head missing 0)
ST1000LM035 – 1RK172-285 – WDE – SDM1 – 15 DEC 2016 – RY2-P / LSIB1-V
ST1000LM035 – 1RK172-285 – WES – SDM1 – 19 DEC 2016 – RY2-T / AGB1-D
ST1000LM035 – 1RK172-020 – WDE – RSM4 – 08 FEB 2017 – RY2-P / LSIB1-V
ST1000LM035 – 1RK172-071 – WDE – LVM2 – 21 MAR 2017 – RY2-T / AGB1-B
ST1000LM035 – 1RK172-568 – WDE – SBM3 – 08 APR 2017 – RY2-P / TIAB-V
ST1000LM035 – 1RK172-036 – WDE – SDM2 – 12 APR 2017 – RY2-T / TIAB-B
ST1000LX015 – 1U7172-500 – WDE – SDM1 – 21 May 2017 – RY2-P / TIAB-W
ST1000LM035 – 1RK172-568 – ZDE – SBM3 – 31 May 2017 – RZ2-B / AG-D
ST1000LM035 – 1RK172-189 – WDE – ACM2 – 03 AUG 2017 – RY2-P / TIAB-W
ST1000LM035 – 1RK172-021 – ZDE – RSM7 – 06 AUG 2017 – RY2-C / TIAB-S
ST1000LM035 – 1RK172-568 – WC0 – SBM3 – 13 AUG 2017 – RX4-P / LSIB1-V (3-head)
ST1000LM035 – 1RK172-036 – WDE – SDM2 – 14 AUG 2017 – RY2-P / LSIB1-W
ST1000LM035 – 1RK172-568 – WDE – SBM3 – 16 AUG 2017 – RY2-P / TIAB-V
ST1000LM035 – 1RK172-285 – WDE – SDM1 – 28 AUG 2017 – RY2-P / LSIB1-V
ST1000LM035 – 1RK172-021 – WDE – RSM7 – 17 NOV 2017 – RY2-T / TIAB-B
ST1000LM035 – 1RK172-568 – WDE – SBM3 – 29 NOV 2017 – RY2-T / AGB1-B
ST1000LM035 – 1RK172-568 – WDE – SBM3 – 07 DEC 2017 – RY2-T / TIAB-B
ST1000LM035 – 1RK172-286 – WDE – SDM2 – 18 DEC 2017 – RY2-P / LSIB1-W
ST1000LM035 – 1RK172-036 – WDE – SDM2 – 07 JAN 2018 – RY2-T / TIAB-D
ST1000LM035 – 1RK172-021 – WDE – RSM7 – 09 JAN 2018 – RY2-P / LSIB1-W
ST1000LM035 – 1RK172-568 – ZDE – SBM3 – 26 JAN 2018 – RZ2-B / AG-K
ST1000LM035 – 1RK172-568 – ZF5 – SDM2 – 12 FEB 2018 – R04-B / TI-D (3-head missing 3)
ST1000LM035 – 1RK172-036 – WL1 – SDM2 – 25 FEB 2018 – RY2-T / AGB1-B
ST1000LM035 – 1RK172-021 – WL1 – RSM7 – 20 APR 2018 – RY2-T / TIAB-R
ST1000LM035 – 1RK172-021 – WL1 – RSM7 – 01 AUG 2018 – RY2-T / AGB1-R
ST1000LM035 – 1RK172-036 – ZDE – SDM3 – 21 NOV 2018 – RY2-C / LSIB1-N
ST1000LM035 – 1RK172-541 – WKP – 0001 – 19 OCT 2019 – RY2-T / AGA1-Z
ST1000LM035 – 1RK172-570 – ZDE – EB01 – 08 NOV 2020 – RZ2-B / AG-K
ST1000LM048 – 2E7172-501 – ZDE – 0001 – 03 FEB 2021 – RY2-P / LSIA1-X
2TB —
ST2000LM007 – 1R8174-566 – WCC – SBK2 – 06 MAR 2016 – RX4-T / AGB1-D
ST2000LM007 – 1R8174-567 – WCC – SBK2 – 13 JUL 2016 – RX4-T / AGB1-D
ST2000LM007 – 1R8174-568 – WCC – SBK2 – 31 JUL 2016 – RX4-T / AGB1-D
ST2000LM007 – 1R8174-568 – WDZ – SBK2 – 22 AUG 2016 – RX4-P / LSIB1-W
ST2000LM007 – 1R8174-568 – WDZ – SBK2 – 30 NOV 2016 – RX4-T / AGB1-D
ST2000LM007 – 1R8174-568 – WDZ – SBK2 – 04 JAN 2017 – RX4-P / LSIB1-V
ST2000LM007 – 1R8174-030 – WDZ – SDM1 – 13 JAN 2017 – RX4-T / TIAB-D
ST2000LX001 – 1RG174-500 – WDZ – SDM1 – 21 MAR 2017 – RX4-P / TIAB-V
ST2000LM007 – 1R8174-568 – ZDZ – SBK2 – 31 OCT 2017 – R04-B / AG-D
ST2000LM007 – 1R8174-568 – ZDZ – SBK2 – 11 NOV 2017 – RX4-P / TIAB-V
ST2000LM007 – 1R8174-568 – ZDZ – SBK2 – 13 JAN 2018 – R04-B / TI-D
ST2000LM007 – 1R8174-568 – ZDZ – SBK2 – 04 APR 2018 – RX4-C / TIAB-S
ST2000LM007 – 1R8174-568 – ZDZ – SBK2 – 15 MAY 2018 – R04-B / AG-D
ST2000LM007 – 1R8174-568 – WDZ – SBK2 – 26 JUL 2018 – RX4-P / LSIB1-V
ST2000LM007 – 1RG174-500 – ZDZ – SDM1 – 20 OCT 2018 – R04-B / AG-2
ST2000LM007 – 1RG174-570 – ZDZ – EB01 – 10 MAR 2019 – R04-B / AG-2
ST2000LM007 – 1RG174-120 – ZDZ – SS22 – 13 JUN 2019 – R04-B / AG-2
ST2000LM007 – 1R8174-570 – WDZ – EB01 – 08 NOV 2019 – RX4-P / LSIB1-X
ST2000LM007 – 1R8174-570 – ZDZ – EB01 – 05 DEC 2019 – RX4-C / LSIB1-N
ST2000LM007 – 1R8174-570 – ZDZ – EB01 – 24 DEC 2019 – R04-B / AG-2
ST2000LM007 – 1R8174-570 – ZDZ – EB01 – 03 FEB 2020 – RX4-C / LSIB1-N
ST2000LM007 – 1R8174-570 – ZDZ – EB01 – 14 APR 2020 – RX4-C / LSIB1-N
ST2000LM007 – 1R8174-570 – ZDZ – EB01 – 27 APR 2020 – RX4-C / LSIB1-N
ST2000LM007 – 1R8174-570 – ZDZ – SPS6 – 16 JUN 2020 – RX4-C / LSIB1-N
ST2000LM007 – 1R8174-576 – ZDZ – SPS6 – 12 AUG 2020 – R04-B / AG-2
ST2000LM007 – 1R8174-568 – ZDZ – SBK2 – 20 OCT 2020 – RX4-C / LSIB1-N
ST2000LM007 – 1R8174-576 – ZDZ – SPS6 – 15 FEB 2021 – R04-B / AG-K
ST2000LM007 – 1R8174-570 – ZDZ – EB01 – 01 MAR 2021 – R04-B / AG-2
ST2000LM007 – 1R8174-576 – ZDZ – SPS6 – 22 MAR 2021 – R04-B / AG-K
ST2000LM007 – 1R8174-570 – ZDZ – EB01 – 08 JAN 2021 – RX4-C / LSIB1-N
ST2000LM007 – 1R8174-073 – WDZ – LGM4 – 01 APR 2021 – RX4-P / LSIA1-X
ST2000LM007 – 1R8174-073 – WDZ – LGM4 – 02 APR 2021 – RX4-P / LSIA1-X
ST2000LM007 – 1R8174-570 – ZDZ – EB01 – 13 JUL 2021 – R04-B / AG-Z
ST2000LM007 – 1R8174-570 – ZDZ – SPS6 – 09 NOV 2021 – RX4-C / LSIB1-N
ST2000LM007 – 1R8174-570 – ZDZ – SPS6 – 06 DEC 2021 – RX4-C / LSIB1-N