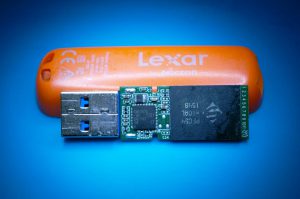 We recently completed data recovery for a customer with a 32GB Lexar Jump Drive which had taken an impact while plugged into a USB port, and, as is the case with many of these Lexar flash drives, the impact flexed the circuit board enough to lift the controller (Silicon Motion SM3267L AB) and tear solder pads. (See my previous case study on a Lexar Jumpdrive with cracked PCB, which used the exact same controller and circuit board as this current case.) After inspection under a microscope to assess the damage, I determined that it would be faster to transplant the NAND chips to a working donor rather than repair the damaged controller connections. I went to our donor inventory, but found that even though all of our donor drives with this controller had space on the circuit board for two BGA-152 NAND chips, none of them used more than one memory chip, whereas our patient drive had two chips.
In this case, it's not as simple as soldering both chips to the donor circuit board and expecting it to work, but it's actually not that much more complicated. There's a simple trick to convert these boards from a single-chip configuration to two chips.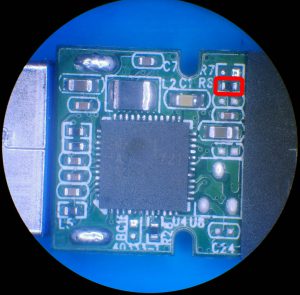 This PCB is equipped with solder pads (R6, marked in the picture with a red rectangle) that are used to jump the controller's second "chip enable" signal (since we count from zero, this is CE1) to the opposite side of the board, connecting to the second NAND chip's CE0.
Without this jumper, the controller can't initialize the second memory chip. Our single-chip donor drive was manufactured without the jumper, but by soldering a 0 Ohm resistor to R6, we could then transplant the patient drive's two NANDs to the donor and get a perfect recovery of the broken drive's data.
For broken flash drive data recovery it's preferable to repair or transplant the memory chips to a working donor whenever possible due to the inherently lower rate of errors than with chip-off recovery, as well as typically faster turnaround time. Still, advanced chip-off flash drive recovery using professional data recovery tools including PC3000 Flash, Flash Extractor, and Visual NAND Reconstructor (VNR) is always an option when flash drive repair isn't possible or a suitable donor isn't available. In this case, that wasn't necessary.
See our flash drive repair service prices.