This week I was reminded how nice it is to work with the Toshiba DT01ACA100 1TB Desktop SATA hard drives. Most data recovery pros hold Toshiba drives in high regard for reliability, but we do get quite a few desktop models that 1 of the heads has failed. The simple, consistent, design makes working with these devices a breeze. While some brands and models are very picky about donor matching we often use heads that are 3 years apart for this 1TB Toshiba desktop model (see photo).
Patient
Donor
Model: DT01ACA100
Date: March 2013
REV: AAA AA10 / 750
Serial: 33PB
Location: China
Model: DT01ACA100
Date: April 2016
REV: ABA AB00 / 7L0
Serial: 468R
Location: China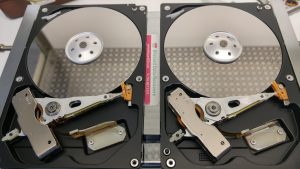 The heads can be swapped in these drives in well under 15 minutes. The magnets and stop are very easy to remove. As you can see, there is plenty of room for insertion and removal of head removal tools.
Imaging with donor heads is typically full speed unless there was significant media damage.
If you have a failed 1TB Toshiba HDD that needs clean-room recovery service and you have been quoted more than $495 (including return media) then let Blizzard show you that data recovery is affordable.
We can provide clean room data recovery for your 1Tb Toshiba disk drives for less than $500. Our flat-rate price includes return media, parts, and return shipping.