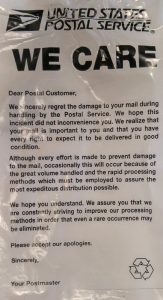 This week we had two cases that could have ended in no recovery but the customers were lucky. If you ship a flash drive it is very important that you do not send it in a regular envelope. A box is preferred but at least use a padded envelope and always use a service that includes tracking information. We had a customer ship a USB flash drive via USPS in a regular stamped envelope. After more than a week the customer called to see if we had received it. We had not. The following week it did arrive and, although the envelope was mangled, the flash drive was still inside and the data was recovered. This was just luck because the USPS sorting/handling system can tear the envelope when there is a hard object inside.
We once received one that was torn to bits and arrived in a USPS plastic bag with a "we sincerely regret the damage" note, but the flash drive was gone! If your data is important please take the time to package it for safe arrival.
The next case that just avoided disaster is the result of a common myth or misunderstanding about hard drive design and function. Many people believe you can just swap the HDD printed circuit board (PCB) on a modern hard drive if it has failed, been lost, destroyed, or maybe they have no real idea what is wrong but Youtube told them to try another PCB 🙂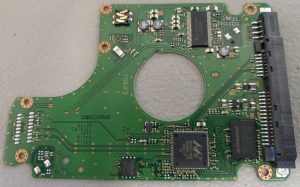 Most modern hard drives have special information stored on the PCB. This information is specific for each HDD, it is not universal. The information is stored in a a flash memory chip or the micro controller unit (MCU). For some models we can rebuild the required information if it goes "missing", but for almost any modern Seagate hard drive it is impossible or just not affordable to rebuild the required information.
In this case we received a Seagate 2.5″ hard drive that the customer had switched the PCB with one they purchased on eBay. The lucky thing for this customer is that Seagate model ST1000LM024 is really a Samsung HDD. Samsung is one of the few modern HDDs that you can source a matching PCB and there is a chance it will work without swapping the flash chip or reading the the data from the original MCU. You still need to match certain criteria and the customer's donor PCB was no match. We had a matching PCB in stock and the recovery was a success!
That's it for special cases this week. We recovered a number of typical cases including broken flash drives and failed hard drives. We did receive a DOA Seagate ST2000LM007 (Rosewood) HDD too. Unfortunately, that's seemed to be more common with Seagate 1 & 2 TB portable hard drives first started appearing, but the 2017 and later models seem to be more reliable and the recovery rates match those of other brands and models (Seagate Rosewood Mobile Disk Drives).