Blizzard offers professional clean room data recovery service at affordable rates. Our recovery lab has the equipment, software, training and tools to diagnose device failure and recover lost data at a reasonable price. We believe we are one of the cheapest data recovery companies you can use without sacrificing quality. If you are looking for an inexpensive data recovery service that doesn't skimp on tools, training, or support then give us a try. We want to earn your trust and make you happy.
Hard drives that have not been dropped or knocked over typically fall under our $295 or $395 charge*. If it has has been dropped or suffered from impact then it could still be a level-2 recovery, but clean room data recovery is $495 for a 1TB hard drive (Level-3).
We also offer USB flash drive recovery for as little as $135* and recovery media is included at no extra charge**.
Need your photos recovered from a camera card? We have a flat-rate photo recovery service too.
No data, no charge! What do you have to lose?
We don't really care for the term "cheapest" but we do offer some of the lowest prices on expert data recovery services in the southeastern United States.
Our company is small enough to offer personal service, but established enough to own some of the best equipment in the industry. Our lab equipment.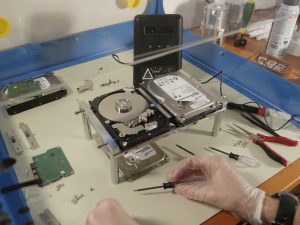 Hard disk drive data recovery specialist
Professional data recovery lab
Broken flash drive repair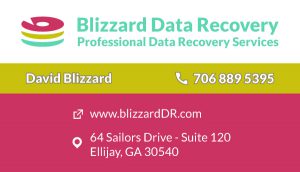 At Blizzard, we strive to make data recovery affordable. We use multiple laminar flow workstations and state of the art hard drive recovery tools and software for HDD failure recovery cases. We also conduct research and training so we can stay on the cutting edge of HDD recovery services and techniques. We are not a large lab that prices difficult recoveries real high so the customer will turn it down. We spend the time necessary and will make every attempt to recover your data, while still maintaining our affordable prices.
Get a free data recovery quote. We have an honest "no data, no charge" policy. We'll even return your HDD via USPS at no charge if it's unrecoverable.
*Rates based on 1TB HDD or 4GB USB Flash Drive
For other sizes see our complete data recovery price list.
Ready to get your data back from a failed or broken storage device? Click the send your drive button below for instructions.